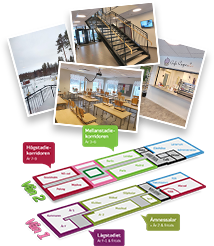 Photos from Språkskolan
This year we have not been able to have an open house and have therefore made a digital tour where you can see photos from the school.
Språkskolan in Umeå
Språkskolan started with a preschool in 1995 under the name Umeå nya förskola. In 2002 we started our primary school at Olofsdal and changed the name to Språkskolan. After having outgrown our old premises we moved in 2014 to brand new premises at Marielund/Olofsdal and since 2016 our preschool with 6 departments is also located here.
Vi arbetar aktivt med svinnet både i produktion och servering och försöker att verkligen använda hela råvaran vi jobbar med, exempelvis att vi även tar tillvara skal och blast från grönsaker. Det svinn vi tyvärr ändå skapar mals ned och återvinns till biobränsle.

– Kökschef Maria om maten på Språkskolan.
Läs hela intervjun på FriskMat.se
Språkskolan in 1 minute
The social media content uses cookies and has been blocked. To view the content click the Allow cookies button below.
Instagram
The social media content uses cookies and has been blocked. To view the content click the Allow cookies button below..
Facebook
The social media content uses cookies and has been blocked. To view the content click the Allow cookies button below.
Temperature
  
Lunch menu
Måndag 04 Juli
Sommarlov
Tisdag 05 Juli
Sommarlov
Onsdag 06 Juli
Sommarlov
Torsdag 07 Juli
Sommarlov
Fredag 08 Juli
Sommarlov
Support
On our support page you will find guides for our digital tools and a FAQ/Frequently Asked Questions page where we post answers to the most common questions.